My little journey reviewing on-line shopping and e-commerce services in Nigeria has been really cool – at least that's how I feel. So far, I have reviewed Sabunta, taafoo, and BriNGitBay. I have seen fantastics sites and not too good sites. One of the fantastic is up for review today: konga.com.
I most confess, first time I entered the site, I fell in love with it. The colour and page layout is fantastic. You can never go wrong with a white background, provided you know how to mix and match the primary colours of your brand. Konga.com is beautiful. No wonder is got 7,631 likes on Facebook as at the time I started writing this reviews and increased to 7, 634 before the end of the review – approximately a 2 hour period.   Now if 50% of these are customer or pontential customers then we can say konga.com is smiling to the bank.
At konga.com, you are availed the opportunity to shop for basically body care products. From cosmetics to baby wipes, not forgetting blood pressure kits, fragrances and a lot more from the topmost brand manufacturers in the world. Even though Sabunta.com and its like pride in providing and promoting Nigerian made items, the likes of konga.com, BriNGitBay.com also pride in providing the western made products.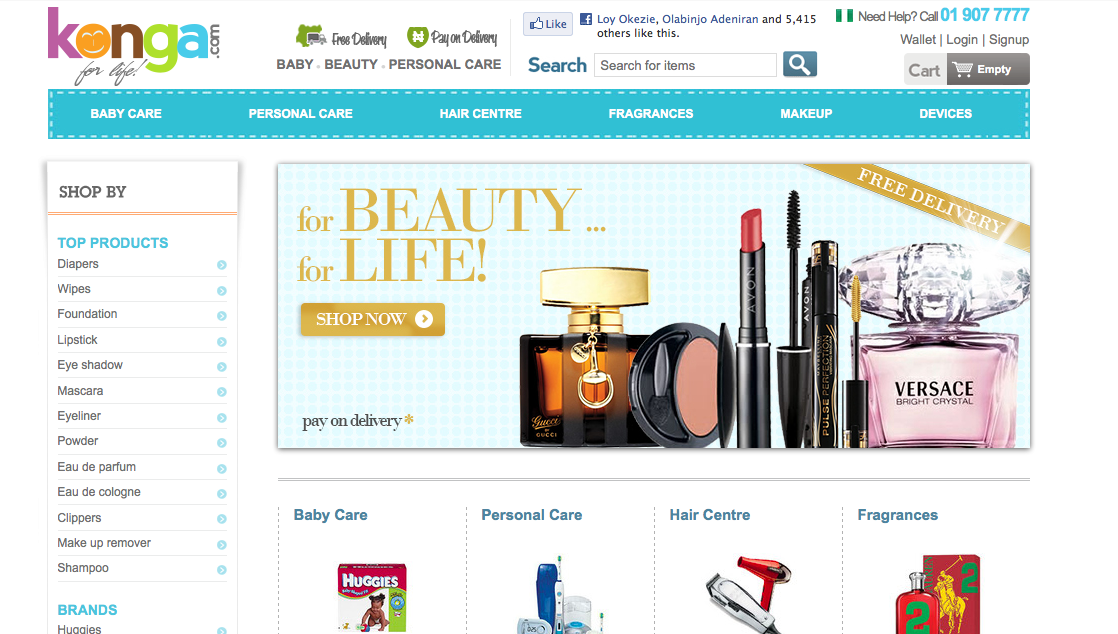 I am trying very hard to find something wrong with konga.com but am yet to find any flaws for the online shopping experience it provides. Like it says in the About Us page in the second paragraph:
"So shopping for the things you need has always been a pain for Nigerians. We are here to make this much simpler (and make you smile in the process)."
And truely they have made it much simpler and easy. Delivery is free within Lagos metropolis if order amount is more than N2, 000. Delivery timelines are clearly defined in the order summary of each shopping item except otherwise stated. Konga.com also has a FAQ page where most question have being clearly answered without ambiguity or any small prints.
Now what Konga.com has to make avialable the contact telephone number dislayed on the site. All attempt to reach konga.com via the number 019077777 proved futile. I could only get the operators response saying "The Glo number you are calling is currently not avialable, you can still reach the called party by using the voice sms……. each call cost N5."
I would make an excuse for konga.com on the contact number, maybe Globacom's fibre optic cable serving konga.com was vandalized during my review.
Reason is not far fetched  I love what I see at konga.com
Cheers.
Image Source: T